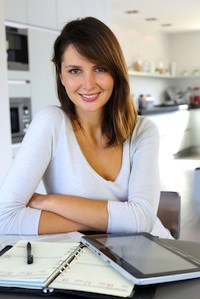 Until you get used to the changes, being a new mom can wear you out. It can also make working outside of the home a bit more difficult than you expected. Many mothers are very creative and entrepreneurial with their new found time at home, and revel in their ability to earn money while staying home with their new bundle of joy. You may be surprised at the variety of opportunities there are for you to work from home.
Bilingual Technical Advisor – If you have skills in technical support and are fluent in a second language, you may want to consider becoming a technical support advisor. There are positions available for day, evening and overnight shifts, depending on the company you work for. Businesses need tech advisors to help keep thing running smoothly around the clock, and often find that hiring telecommuters is more efficient than maintaining on-site call centers.
CEO/Executive Director – Usually when you think of a CEO or ED, you imagine someone in a corner office with a spectacular view. Now, thanks to the Internet and advances in technology, you can run an organization or company from the comfort of your home. If you enjoy a challenge, have the qualifications and experience necessary for the position and you know how to keep the lines of communication open, it's definitely worth looking into.
Grant Writer and Manager – You can work with one particular organization, or freelance and work for several in this position. It's not difficult to work at home to prepare grant proposals and fill out the applications. Strong communication skills are needed to write the grants clearly and concisely. You may also need to communicate with the organization in a variety of ways daily, so make sure you have the required resources.
Teaching – If you have your teaching degree, you may be able to get a job teaching virtual classes. Even elementary classes are now being taught online. Charter schools, some academies and educational organizations recruit excellent teachers in a variety of areas. There are national organizations that employ licensed and certified teachers for virtual classes all over the country. Virtual teachers have many of the same responsibilities of in-school instructors, including evaluation of student success, monitoring the students' progress and working with other instructors.
Online Fitness Coach – For new moms who have a background in being a fitness coach, you can transfer your skills to an online business using email and phone calls to coach your clients. Online tracking programs, logging in food choices and calorie intake are all a part of this burgeoning enterprise. You also provide workout guidance. For the busy person who desires to get or stay in shape this is a blessing. As a new mom, this career could be a double blessing, since it may encourage you to get back into pre-pregnancy shape as you offer help to others.
Project Manager – You don't need an office anymore to keep people on track with what they need to do to get the project finished. This area has also opened up as a telecommuter position, like so many other formerly office-based careers. You will need excellent communication skills and the ability to use a variety of contact methods to stay in touch with all the players. Your organizational skills will be key in successfully completing the project. These positions can be done independently or you can hire on with a company or consulting firm.
Travel Advisor – Moms who enjoy working with people and sales may enjoy consulting clients on planning perfect getaways. This work is done completely over the phone and through email. It's also an industry that is growing as a telecommuting job, and for those who are self-motivated, highly organized and goal oriented, this position may prove to be quite satisfying.
Customer Service Agent – A working phone will get you a job as a customer service agent. Many big companies like American Express, AAA, U-Haul and others of their ilk are hiring more people to work from home as customer service agent. The down side is that you may need to work a specific schedule. On the other hand, if that works for you, there's the chance that you would be hired as a permanent employee with steady paychecks and much-coveted benefits. Before taking on this position, check the strength of your resolve and self-esteem. Customer service positions require a tough skin, because unhappy customers can be somewhat abusive.
Freelance Writer – Excellent writing skills can land you writing projects that you can complete just about any time as long as you meet the deadlines. Guru.com and Elance.com are just two of the many companies that match clients to contractors. The nice thing about working through such companies is that they have safeguards in place to ensure that you will get paid for the work you do. You won't have to worry about bounced checks or no payment. They do charge a small percentage for collecting your fees, however.
Crafter – For the crafty mama who enjoys making things, you can consider opening up an online store. You have the choice of working though a site like Etsy or one of the other online craft clearing houses like Artfire or Craftsu, and you can also build a local customer base. Many people do both. Be aware that competition is stiff, so you will need to be marketing savvy as well as creatively gifted.
Working from home doesn't have to mean stuffing envelopes or doing some mundane, time consuming work for pennies. Think creatively, discover what your gifts and talents are and look for ways to use them to your financial advantage. Be wary of scammers. Legitimate jobs will not ask you to pay them and unless you are very, very fortunate understand that no online job will make you a millionaire in a year's time. Any job that offers to do that is most likely a scam.