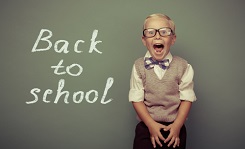 Going back to school is a time that's bittersweet, both for parents and kids alike. While you may be excited to get back into a routine, it can be difficult for kids to adjust having a set schedule again and for parents to not having the kids at home all day. Instituting a back-to-school tradition can help get everyone excited about the changes a new school year brings. Whether it's a picture snapped right before school or a special breakfast served up before the kids head out for the day, there are many ways you can commemorate the start of a new school year. These 20 blogs will help you find a back-to-school tradition that will have everyone smiling as they head out the door.
Last Days of Summer
For a tradition that spans the last days of summer, consider taking the kids for one last hurrah in the days leading up to the first day of school. This tradition can be anything from a fun weekend away to a trip to an amusement park or to their favorite park with a picnic lunch.  These five bloggers show you how they celebrate the end of summer and the beginning of a new school year.
Say Cheese!
Many people snap a quick first day of school picture with the kids dressed in their new school clothes. This year dress up this tired tradition by having the kids hold up a sign or a chalkboard showing off what grade they are starting. Or do something totally different and shoot the kids with their friends on the first day.  For more unique photo choices for the first day of school, take a look at these five blogs.
Start the Day Right
They say breakfast is the most important meal of the day, so why not fix the kids something special to eat before they head back to school? Serving up their favorite foods is a great way to get the kids even more excited about the prospect of a  new school year. Don't know where to start? Check out these five bloggers for inspiration.
Surprises
Just about everyone loves surprises, so send a special note in your child's lunch box or decorate the front door before they get home from their first day back in school as a way to surprise them and celebrate their first day. You could also serve your child's favorite meal at dinner or ask them what they want to eat that night. These bloggers have come up with several ideas for new traditions that you can start this year; take a look!