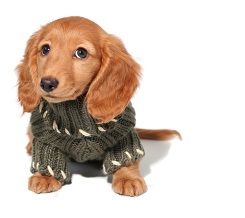 Six out of 10 Americans own some type of pet, which shows what an integral role pets play in our everyday lives. Pets have become ingrained into our societies, and it's not unusual to want to celebrate their presence in our lives. Whether you want to dress your pet up, shower him with new treats and toys or bring him into work to show him off, there are myriad ways you can celebrate your pet. These 20 blog postings will make you laugh as you look at all of the darling pictures of pets and the different ways you can celebrate your own.
Dress Up
Many pet owners enjoy dressing up their pets in pet-size clothes, and it's easy to see why. Tiny sweaters to keep a small pet warm during the cold months and costumes to celebrate Halloween are just a few of the ways you can indulge in clothing for your pets. There's even a holiday in January specifically celebrating dressing up your pet! Take a look at these five blog entries to see how people are dressing up their pets. 
Birthday
A fun way to celebrate your pet is to throw him a birthday party with other dogs you may know.  If you don't have room at your place or are not comfortable with a bunch of extra dogs in your house, you may want to meet at a local dog park for the party. Dog-approved cake mixes are available for dogs now, or you can make dog-friendly cupcakes and party favors using the blog posts listed here.
Gotcha Party
A 'Gotcha Party' is a celebration of the day you adopted your pet and welcomed him into the family.  Most of the time there's no way to know when a pet's birthday really is when you get them from a rescue situation, which is why people have started celebrating the day that they got their pet.  For ideas on how to throw a 'Gotcha' party, read these five blog articles.
Take You Dog to Work
"Take Your Dog to Work Day" is the perfect way to show off your favorite furry friend.  This day is meant to not only celebrate your dog, but to encourage other people to adopt pets of their own.  To learn more about these efforts look at these five blog entries.