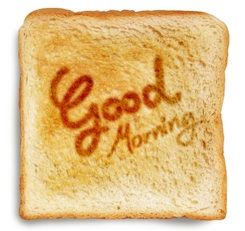 Mornings can be chaotic when you are trying to get lunches made, kids fed and backpacks ready to go out the door.  Unfortunately, many kids head to school without eating a proper breakfast.  While there are plenty of time-management tips for finding more time in the mornings, one great one is making breakfast ahead so there's one less thing for you to do.  In these 21 blog entries you will find recipes that you can make on the weekend and throw in the freezer, as well as others that you can make the night before and let them cook overnight in the slow cooker.  There are even recipes that can be prepped the night before and baked in the morning while you are packing up lunches.
For the Freezer
Make breakfast burritos ahead, wrap them up and toss them in the freezer.  Depending on the age of the kids, they can probably warm them up in the microwave on their own and eat it or take it with them as they walk out the door.  Same thing could work for other breakfast sandwiches.  Take a look at these seven blog posts for some freezer-friendly breakfast ideas.
In the Slow Cooker
How nice would it be to wake up to the smell of breakfast already cooked in the slow cooker?  The family could help themselves as they got ready and you could continue on with packing lunches and backpacks.  The nice thing is that these recipes are healthier than those sugary cereals kids typically eat.  See if any of these seven blog articles can whet your appetite.
In Your Refrigerator
For a change of pace you can make up breakfast the night before and put it in the refrigerator and bake it in the morning.  Imagine the look on your family's face when they smell a hot breakfast baking on a school day.  You will be a breakfast hero!  Whether it's a breakfast casserole or coffee cake, you can find the recipe on these seven blog entries.