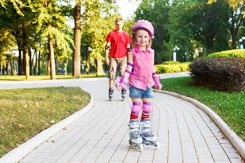 When the weather warms up and school lets out, active kids' thoughts naturally turn to all of the fun and exciting activities that can only take place outdoors. Parents of kids with more sedentary hobbies may also look for ways to get their kids interested in the great outdoors, and the sunny days of summer are among the best for spurring that interest. Before you send your brood outside to bask in the rays while they expend some of their boundless energy, there is some safety equipment you'll want to invest in to ensure that the summer is spent enjoying the great weather, rather than camping out in the emergency room.
Sunscreen – One item that should be at the top of your summer safety shopping list is plenty of sunblock to make sure that kids' sensitive skin is protected from the harmful rays of the sun. In addition to causing painful burns in the short term, excessive sun exposure can also increase a kid's risk of skin cancer later in life. When you make slathering on the sunscreen part of your child's everyday routine, you're helping to instill a good habit that they'll continue as they get older.
Helmets – Kids aren't always big fans of wearing a helmet, but it's a necessary evil when they're roller blading, riding a bicycle or playing contact sports. To cut down on mutinous thoughts and kids' tendency to shuck the helmet as soon as you're out of sight, try to find one that's emblazoned with their favorite colors or characters.
Elbow and Knee Pads – Skateboarding, roller blading and the likes are all popular activities with the younger set, and they can all wreak havoc on little knees and elbows when the inevitable spill occurs. While all kids should be wearing protective knee and elbow pads before they hit the half-pipe or strap on their skates, it's especially important for younger skaters that are still nailing down the basics of their chosen sport.
Life Jackets – If one of the activities on this summer's menu is a trip to the lake, a river or beach, you'll want to make sure that you invest in plenty of properly-fitted life jackets for each member of the family. Boating accidents are far more common than most people realize, and failure to wear proper flotation devices is actually against some local ordinances.
Fencing – When you think of summer safety gear, a sturdy fence may not be among the items that initially come to mind. If you have a swimming pool or spa, however, you should make sure that one is installed before you open for the swimming season. Drowning is one of the most common causes of death in young children, and knowing how to swim isn't always a guaranteed safeguard against such tragedies. Your pool or spa should be enclosed by a high fence that can't be scaled by nimble little bodies, and gated in such a manner that little fingers can't reach the latch.
Child Immersion Alarms – The best way to ensure that kids aren't in your pool area without permission is to install a high fence with a latching gate. When they do have permission to swim, a capable adult should always be on hand to ensure that there are no potentially-serious accidents in the making. Even the most attentive adult can become distracted, however, and that's where child immersion alarms come in handy. These devices are worn by your toddler or preschooler, and will transmit an alarm to the wireless receiver if it becomes immersed in water.
A Good Influence – Regardless of how hard you try to outfit your kids with the best and most advanced safety gear, the most effective tool in your arsenal is your own ability to model safe habits. Kids learn by watching and mimicking the behavior of adults around them, and you can't take a "do as I say, not as I do" approach to child safety. Make sure that you wear sunblock when you go outdoors, don a helmet before sitting astride a bike and strap on your life jacket before hitting the water. In the end, your kids will be much safer for it and you'll also be protecting yourself from the same accidents you're hoping to help them avoid.